Louis Gross
Upon first meeting Lou Gross you would never guess what an extraordinary life he has experienced or what insurmountable tragedy he has overcome.


Born in Czechoslovakia, Lou was just a boy when the Nazis invaded his town. His young carefree life was torn apart forever as he stood in his doorway and watched soldiers prod and poke the town elders as they were paraded enmasse to trains to take them to Auschwitz. "Wait," he cried out, as he spotted his friend's grandmother limping under the strain of her suitcase.


He ran inside to fetch his favorite cane and darted out the door, past the gun-toting soldier, to deliver it to his friend's grandmother. Although he did not know why, he understood that his life as he knew it had changed forever.


Lou's is a story of survival of the human spirit. After witnessing unthinkable daily horror, he and his family survived the war. He and his sister were able to immigrate to Israel with a child transport and eventually settled on a collective farm, hoping his parents would be able to follow.


After three years, Lou and his family were reunited in Canada and eventually settled in Chicago. After graduating from Hyde Park High School, Lou went on to earn his Masters in Social Work from the University of Chicago and later completed post graduate training in child therapy.


Lou headed the Chicago Commons Association Outreach Program where he worked with delinquent gang members and also at the Evanston Children's Home where he treated emotionally disturbed children. In addition to his private practice, he served as a consultant to the Special Education Staff for Glenbrook High School. As a result of Lou's lost boyhood, he devoted his life to helping other "lost children."


Today Lou is married with three grown children, two step sons, and seven grandchildren. He divides his time between Oceanside, CA and Surprise, AZ., where he is very active in community service. It was his ardent wish to write and publish his unique story of survival.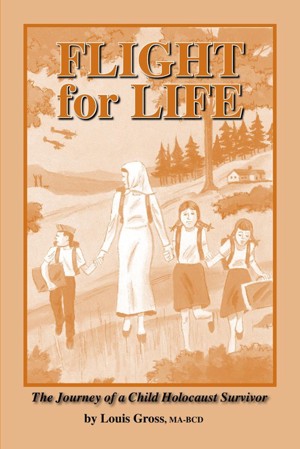 Flight for Life
by

Louis Gross
The Journey of a Child Holocaust Survivor The enormity of the destruction of six million Jews in a span of less than a decade is a challenge for most to conceptualize. As a young boy born into a privileged life in Europe, Lou Gross had a rich quality of life. With the onset of World War II though, all Slovakian Jews found themselves equally at risk of losing their lives. Lou's young, carefr