Lozi Hart
Biography
Lozi Hart grew up along the Ohio River in the Appalachian foothills of eastern Kentucky. She has studied music, art, architecture, interior design and anthropology. She adores old houses and loves writing about the people who inhabit them, whether their residence is in body or in spirit. Her first novel, Bluegrass Bountiful, will be published by Turquoise Morning Press in April of 2011.
Where to find Lozi Hart online
Books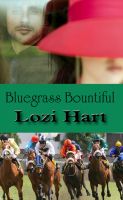 Bluegrass Bountiful
Graham McCullough never forgot his first Kentucky Derby or the dark-haired beauty who stole his heart that weekend twenty-five years ago. He'd gone home to Scotland after the Derby intending to return to Louisville to ask the woman to be his wife. But a family crises sent him to the wilds of the Amazon Rain Forest for the next six months and when he finally did make it back, she had vanished.
Lozi Hart's tag cloud