Rusty Coats
Biography
Rusty Coats started his career as a reporter for his hometown newspaper, The Evening News in Jeffersonville, Indiana, and has worked in media ever since. He's worked for newspapers in Maine, Miami and Modesto, CA, as an investigative reporter and columnist, before becoming a technology reporter in 1993, covering the birth of interactive media. Since then, as an interactive media executive, he has driven audience and revenue for such news companies as McClatchy, Media General and E.W. Scripps. Rusty holds a bachelor's degree in journalism and English from Indiana University and has attended the Iowa Writer's Festival – which is where "Out of Touch" began as a character sketch. He and his wife, Janet – a journalist and former executive editor and multi-year Pulitzer judge – run Coats2Coats, a consultancy that focuses on a media future that is participatory, profitable and mobile. They live in Sarasota, Florida and, in true "Brady Bunch" style, have five children.
Where to find Rusty Coats online
Books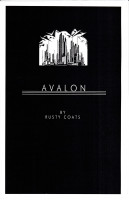 Avalon
by

Rusty Coats
Avalon was supposed to be the new City of Light: a clean, beautiful place to live, work and play - virtually. There was a cost, to this utopia. Programmers Disease. As the epidemic swept through the nation, society rushed in to shut it down. But, cyberspace, like nature, abhors a vacuum and every vice imaginable rushed in to fill the the elaborate Art Deco void. Avalon It is what you think.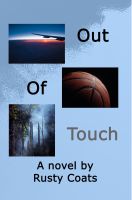 Out Of Touch
by

Rusty Coats
Imagine knowing the future without knowing how to change it? Out of Touch follows a reluctant psychic who feels more burdened than gifted: able to see the past, present and future of those who touch an object before he holds it in his hand.
Rusty Coats' tag cloud