L. R. Irby
Biography
L. R. Irby was on the faculty of the Fish and Wildlife Management Program at Montana State University for 26 years. Over the course of his career, he conducted research on the ecology of large mammals in the northwestern United States, Africa, and Central America. Since his retirement from MSU, he has much more time to devote to his avocations: writing, fishing, hunting, and traveling. Between trips, he and his wife live in southwestern Montana.
Books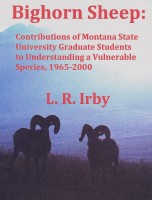 Bighorn Sheep: Contributions of Montana State University Graduate Students to Understanding a Vulnerable Species, 1965-2000
by

L. R. Irby
During 1965-2000, 21 Montana State University graduate students completed field studies of bighorn sheep (Ovis canadensis). Their studies indicate that bighorn sheep can be a viable part of Montana's fauna for the foreseeable future. Bighorns will never be as abundant as deer and elk because they have a narrower range of suitable habitat, but they do respond well to management.
L. R. Irby's tag cloud