L. R. Knupp
Biography
L. R. Knupp is a rather stodgy old professor with too much facial hair and too little self-discipline. He started writing recently when he realized his head had filled up and he needed to get some stories out before he could get anymore in. He's read an enormous amount of Sci-Fi and Fantasy over almost 60 years and found some of it to be quite good, really.
In the course of his years, he has been a rock and roll disk jockey, a radio newsman, a television newsman, a newspaper publisher and an IT manager. He is now a college professor, firm in the certain belief that in many instances, those who can do, teach.
This is his first time writing fiction although he has frequently embellished the truth.
He actually lives in Kansas because he likes it there, teaches about computers and networks like that new-fangled Internet thingee, and has a cat who can be rather irritating at times. He dearly loves the rest of his family but they live in Wisconsin where they have lots of snow, ice and cold temperatures so that speaks volumes. In their defense, they also have the Green Bay Packers.
When he grows up, he hopes to become a pirate.
Books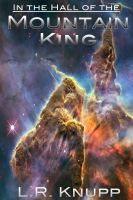 In the Hall of the Mountain King
by

L. R. Knupp
Half a million years ago, two races in a far galaxy went to war. The losers handed off their war to Earth along with the technology to fight it. Now, the secret Earth organization known as The Blade is realizing that the enemy they signed up to fight is not the one they're actually fighting. In fact, it seems their worst enemies are on Earth, proving that gifts from strangers can be dangerous.
L. R. Knupp's tag cloud