Nany Robbin
Biography
Literature was a sort of religion for Nancy Robbin. She felt that when the text was right, when the words moved as they must, and when the underlying honesty of the story held it all together, in that instant, the work would take you to a better place.
Nancy was born and grew up in Duluth, Minnesota but spent most of her life in northern California. In her youth, up until her 40s, she lived here and there: Tucson, Los Angeles, Sonoma, Carmel, New York, Mexico, and Mendocino. She settled down in the Bay Area.
As a student at UCLA in the 1940s, poetry and friends were everything to Nancy. One friend was Barbara Guest, who later published a biography of the poet HD and was herself a noted poet. This was a time for many when poetry and literature were in the air: W.H. Auden, Hart Crane, Ezra Pound, James Joyce, F. Scott Fitzgerald, Thomas Wolfe and others
Nancy Robbin wrote stories, poetry, and novels in fits and starts throughout her life. Her mother published Nancy's poetry in children's literary magazines, and at UCLA Nancy was the editor of a poetry magazine. She wrote at school, during the early years of motherhood after World War II, through love, marriage, separation, divorce, between binge drinking and black-outs, cops, judges and psychiatrists, until, finally, she managed to negotiate an uneasy truce with her demons.
In New York 1958, she became friends with the composer George Antheil who offered encouragement and advice from his own storied life. He wrote to her, "be yourself. Save your honesty for the writing paper. Honesty is the great gift we give; it is wasted on most people. Give it to your writing paper." Later, Antheil told Nancy, "Write – and never think about other problems TOO much… become remote, artistic, inefficient… You have writing GENIUS…"
Nancy wrote what she knew and gave the gift of honesty. Among other things, she knew the seedy side of San Francisco bohemia in the early 1960's. These were the days when she was friend, neighbor, and drinking companion to the souls who drifted in and out North Beach's San Gottardo Hotel (which she called the San Giovanni Hotel in her novel).
For Nancy and many of the other tenants, the San Gottardo was a wild brew of hopes and fantasies, resignation and unwarranted optimism, and Nancy was definitely in the mix: drinking, hilarity, talk, dreaming, more drinking, hiding, holding on, sliding down, dreading, and struggling to get back up. What started out as an adventure, an escape from a stifling life in suburbia, in the end, came close to killing her.
That she managed not to die of alcoholism in her room on the 2nd floor of the San Gottardo Hotel in North Beach and that she managed to find sobriety and transform her journey into literature seemed, at the time, improbable.
A Great Place to Drink is a roman a clef, a work inspired by a time and place now long gone. But the story's desperation and honesty are timeless.
Nancy Robbin also authored the novel, THE CARAVAN, as well as short stories and poetry. Step into the San Giovanni Hotel and Bar for A Great Place to Drink.
Books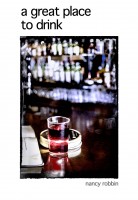 A Great Place to Drink
by

Nany Robbin
A Great Place to Drink takes us into a wine-infused hotel-bar at the outer edges of early 1960s North Beach, San Francisco. It's the home we didn't expect to find and the authenticity we didn't know we were seeking. In real life the San Giovanni was the San Gottardo, a small Swiss-Italian hotel and bar, 217 Columbus Avenue, home to poets, transients, and day dreamers.
Nany Robbin's tag cloud