Linda Crotts
Biography
I began writing short stories and poems since I was 7 years old. My first written story was typed on an old typewriter that my grandmother had. As I grew older, my imagination also grew, and I especially liked writing scary stories, stories about unusual things, and the unknown. As I got into my teens, I changed my focus from the scary and unknown to boys (which, really, wasn't that much of a change!). Though I don't write now, I am attempting to publish stories and poems I wrote from the age of 7 to the age of 14.
Books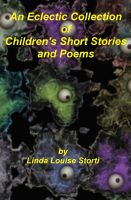 An Eclectic Collection of Children's Short Stories and Poems
by

Linda Crotts
This is a collection of short stories and poems that I wrote as a child spanning a time frame of 6 years, from age 7 to 13, out of a desire to be creative. I had a wild imagination (which you will see!), and all of these writings came from within. I had a fondness for scary stories, mysteries, and the unknown, all due I am sure from the books I read and the shows I watched in the 1960's.
Linda Crotts' tag cloud