Anna Lucas
Biography
As a researcher with an interest in the history of Antarctic science, the author developed a greater interest in the personalities who contributed so much to that history. She worked with researchers monitoring Eudyptula minor (the Little Blue Penguin), in postgraduate research administration, and as co-editor of marine publications. Inspired by a trip to Antarctica, her writing has more recently focused on its exploration and what inspired and motivated explorers. Her publications include magazine and journal articles, book reviews, essays and eBooks. She continues to be immersed in Antarctic subjects.
Smashwords Interview
Books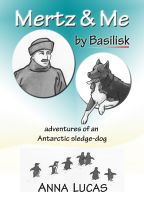 Mertz & Me, by Basilisk. Adventures of an Antarctic sledge-dog
by

Anna Lucas
Illustrated. Basilisk narrates the adventures and misadventures of an Antarctic Expedition – a tough assignment, but Basilisk was a tough, resilient dog. He survived storms and blizzards to lead a dog-team over treacherous icefields. He adored the beautiful Alexandra; he also rebelled and chased penguins. With Swiss trainer, Mertz, he had fun and faced huge challenges – and then things got worse.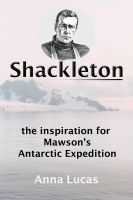 Shackleton: the inspiration for Mawson's Antarctic Expedition
by

Anna Lucas
Sir Ernest Shackleton, a key player in Antarctic exploration, inspired many men who travelled with him. This essay explores Shackleton's contribution to the launching of Douglas Mawson's first expedition, and how he continues to inspire through his books and others' interpretations. Inspired adventurers push boundaries to extreme limits of physical, mental and emotional endurance, as he did.
Anna Lucas' tag cloud