LuAnn Cooley
Biography
I am a middle aged if I live to be over 110 nature lovin' wife, mother, omi, sister, friend, runner, writer, gardener, critter caretaker, pianist, photographer, student, Jillian junkie, bicycler, cook (not chef or gourmet, just cook), homesteading Ph.D. educator who believes that anything is possible and wonder surrounds us.
Where to find LuAnn Cooley online
Books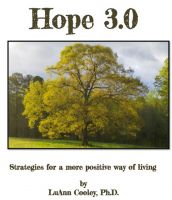 Hope 3.0
By
LuAnn Cooley
Price: Free! Words: 8,110. Language: English. Published: October 8, 2013. Category: Nonfiction
Hope is the spark that ignites the soul into action. Of itself, it isn't a strategy, but a state of mind. It is the fuel that provides the energy to do the things that create a better life, a better future, and a better world. Hope 3.0 is a book of strategies that anyone can use to develop a more positive approach to living.
LuAnn Cooley's tag cloud