Luigi Ametta
Biography
Luigi Ametta è nato a Cassino nel 1964 e dal 1969 vive a Torino. Diplomato nel 1984 presso l'istituto tecnico Carlo Grassi, attualmente è impiegato come Manufacturing Engineering Specialist in un'azienda di veicoli industriali. Musicista non professionista tra il 1983 e il 1997, nel 1995 ha realizzato l'album As The Years Go By con la sua band Circle of Fairies. Tra il 1990 e il 1999 ha collaborato come free lance con le fanzine musicali Paperlate, Freak Out, Progress e Book of Saturday, quindi dal 1999 al 2008 ha pubblicato sul web la webzine di musica alternativa No Warning! nell'ambito della quale si è occupato occasionalmente anche di cinema e letteratura. Ha inoltre collaborato saltuariamente alla rubrica di novità editoriali del mensile locale La Bussola. Nel 2011 il suo primo romanzo Quello Che Scegli Di Essere è stato pubblicato da 0111 Edizioni.
Where to buy in print
Books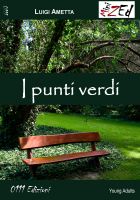 I punti verdi
by

Luigi Ametta
Una sera d'estate all'inizio degli anni '80, un adolescente ed un suo amico di qualche anno più vecchio si trovano su una panchina dei giardini pubblici a parlare del futuro. Alternando toni seri e scherzosi, i due giovani condividono certezze, dubbi, speranze e timori, preparandosi all'ingresso nella fase adulta delle loro vite in un periodo storico segnato da profondi cambiamenti sociali...
Luigi Ametta's tag cloud