Christopher Wills
Biography
I am soldier, sailor, teacher, writer. I left school at 16 to join the army for 6 years. Then after university I joined the Royal Navy as an officer for 8 years and left to become a Physics and Mathematics teacher. Now I am a technical author (writer) for air traffic services in the UK and hope to earn enough from fiction to become a full time fiction author soon.
Where to find Christopher Wills online
Books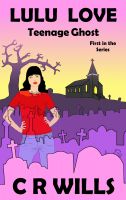 Lulu Love Teenage Ghost
Lulu Love is a ghost who wants to know why her father wasn't at her funeral. She sets out to find him and gets herself into a lot of trouble because she can't even walk through walls. Hunted by daemons and the ghost police and in danger of turning into an inanimate object Lulu makes her way north to the terrifying climax of this first book in the Lulu Love series.
Christopher Wills's tag cloud