Larry Baum
Biography
I grew up in Los Angeles, studied at Harvard College, and earned a PhD in Neurosciences at the University of California, San Diego. I then worked as a biologist doing research on Alzheimer's disease and other brain diseases. Now I live in Hong Kong, where my children Ryan and Ianna were born in 2003 and 2005. When they were old enough to start reading, I looked for children's books with simple words so that learning would be easier. But all the books I found had a mix of short and long words. I wondered whether I could write a children's book with only short words. Using words no longer than 4 letters would be feasible. What about 3 letters? That should still be doable. Two letters? That would be a big challenge, but I tried and came up with We Go To Bo. After being too busy with work for several years, I finally decided to hire an illustrator and publish an ebook myself, making it free so that as many children as possible could benefit from it. Joanna Pasek's charming illustrations caught my eye, and we completed the book in October 2015.
Where to find Larry Baum online
Books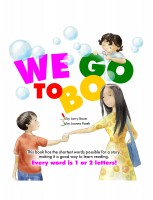 We Go To Bo
by

Larry Baum
(5.00)
This book has the shortest words possible for a story, making it a good way to learn reading. Every word is 1 or 2 letters.
Larry Baum's tag cloud