Lydia Nyx
Biography
Lydia Nyx is from Cleveland, Ohio. She's older than she looks and not as wise as she seems. Her many incredible talents include making things up, finding amazing clothes in thrift stores, and giving her opinions on things no one asked her about. Her favorite holiday is Halloween, and her favorite color is black–not because she's dark and broody, but because it doesn't show the stains when she dumps things on herself. She writes romance and erotica, as well as paranormal, horror, and urban fantasy, and prefers all her fiction with a male/male twist. She currently resides in a little apartment with her teenage son and a crazy cat and spends countless hours of the day entertaining the dirty fantasies in her head. As a "day job," she works as a waitress, which gives her lots of free time to slack off and plot stories. Writing since the age of thirteen, she has always wanted to be an author and hopes to one day make her living that way.
Where to find Lydia Nyx online
Books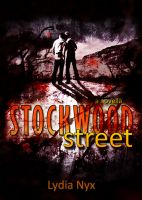 Stockwood Street
By
Lydia Nyx
Price:
$3.99 USD.
Words: 27,050. Language: English. Published: September 1, 2012 by
Lillibridge Press
. Category: Fiction
Evan Turner lives in a world he never could have imagined, a reality where danger, desperation, and the fight for survival consume his every waking moment. A major terrorist attack that destroyed huge portions of seventeen U.S. cities transformed Evan's childhood home of Yonkers, New York, into a primal, treacherous new world. Here, luxuries are few....
Lydia Nyx's tag cloud