Dietrich Geschke
Biography
Dietrich W. Geschke was born in pre-war East Prussia and lived on his father's farm until January 1945. Along with his mother and sister he was captured by the Red Army. He experienced the killings, mistreatments, hunger and plunder by the Russian soldiers after the war and spent the next 3 1/2 years with his mother and sister on collective farms in Kaliningrad Oblast (former pre-war East Prussia). Dietrich's father served as a soldier on the Eastern Front and was captured by British Forces. He was released in West Germany soon after the war. Dietrich's mother worked every day as a forced laborer without any pay, food, extra clothing or days off. Dietrich helped manage the family's scarce food supply, and they survived hunger and starvation under the constant threat of armed Russian guards patrolling all available food sources on the collective farm. Stalin wanted all Germans out of pre-war East Prussia. He wanted to settle Kaliningrad Oblast with Russians transposed from Belarus and other Russian provinces. Finally in September 1948, the long-awaited day came and the family left the collective farm in Kaliningrad Oblast and arrived in East Germany. They escaped across the border from East to West Germany on foot in November 1948 and finally experienced freedom. Dietrich started grade school in West Germany after a 4 1/2 year hiatus of not attending any school. He experienced real freedom along with his father, mother and sister when they arrived in the U.S. as immigrants in April 1952 under the Displaced Persons's Program. Dietrich started high school in Iowa, not having had previous instruction in english. He received his B.S. degree in psychology and his M.D. degree from the University of Michigan. He spent his career as a general surgeon and urologist in the U.S. Army Medical Corps. Today Dietrich writes from his home in Sahuarita, Arizona, where he lives with his beautiful wife, Lynda.
Where to find Dietrich Geschke online
Books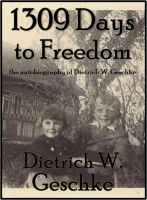 1309 Days to Freedom
by

Dietrich Geschke
This is the autobiography of Dietrich W. Geschke, who was born in pre-war East Prussia. Kept along with his mother and sister on Russian collective farms in post-war Kaliningrad Oblast (pre-war East Prussia) for 3 1/2 years and eventually escaped from East Germany to West Germany. His family immigrated to the U.S. in 1952.
Dietrich Geschke's tag cloud