Michael Jackson
Biography
About the author
Michael Jackson lives in Alabama and has been negotiating and fixing all sorts of situations in the United States, Japan, Canada and Mexico for almost 25 years. His negotiating skills and some of his negotiating methods have resulted in a very memorable and lasting reputation. He's married, with three children and two step-grandchildren.
Books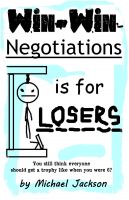 Win-Win Negotiations is for Losers
by

Michael Jackson
If you have never negotiated or desire to be better, learn to win! Win-Win is overrated by people who don't have to win every day. This book is especially good for people with some negotiating experience who want greater success. It's an easy read with lots of attitude and it will give you some serious negotiating strategies to help you become a better negotiator.
Michael Jackson's tag cloud