Maarten Peters
Biography
Maarten Peters is a devoted family man with an MBA degree from the University of Southern California. He is a product & process developer, manager and marketer by trade, social and for-profit entrepreneur, real estate mogul in progress, entrepreneurial coach and mentor, speaker on anything business, student of Life, believer in karma and reciprocity, and fervent supporter of the 80/20 rule and the KISS principle.

Keywords best describing him are: Curious beyond belief and passionately MAD (Making a Difference)!

Throughout his life Maarten has been fascinated by business. The whats, hows and particularly whys associated with running a successful business left him with many questions to be answered and answers to be questioned.

Studying business theory in an official capacity at various business schools across the Western World, and gaining practical hands-on experience through work and leisure on 4 continents, Maarten came to the realization that there is a wealth of experience available from the business world offering solutions and best practices relatable to most 'regular' personal situations and main life events. He started gathering the stories and connecting the dots and 'BOL - the Business of Life' is the 'living and growing' product of this quest.
Books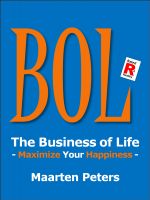 BOL - The Business Of Life
by

Maarten Peters
(5.00 from 1 review)
Is your personal pursuit of fun, productivity & happiness not working out as you hoped? Is your joy restricted by busywork and other nuisances? Check out BOL - the Business of Life! Written in plain and straight forward English, it shows you how to maximize your happiness, mending your thoughts and actions along the way. Enjoy!
Maarten Peters' tag cloud