Muhammad Abdullah Javed
Biography
Thanks for the visit. A hearty welcome and a warm hug. Please step in it's my world of knowledge and wisdom. The knowledge has its own sweetness and taste. From the time immemorial writings have hugely influenced both humans and the society. The quality of knowledge and its productive relation with the humans, sets the future. I am an enthusiast, optimistic with regard to the thoughts and expressions that appear in my writings. My field of writing comprises of religious thoughts, science, humanities, sociology, personality development, human resource management and contemporary issues. As far my educational background, I have two master's degrees in Nuclear and Energy Physics and in Sociology, and have gone through various courses pertaining to Arabic, Islamic and comparative religious studies. The basic motive behind penning down my thoughts is just to share knowledge, spread a sense of humanity. contribute to the efforts of development and be a just voice.
Smashwords Interview
Books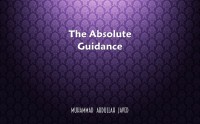 The Absolute Guidance
by

Muhammad Abdullah Javed
A short and crispy discussion on the concept of Islamic Guidance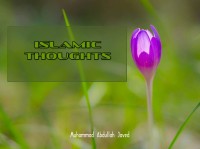 Islamic Thoughts
by

Muhammad Abdullah Javed
Views and reviews in an Islamic Perspective. There are innumerable things that arrest our attention, a right perspective and right initiative is always results in healthy views and actions. But it is not that easy, it demands our gentle care and a realistic approach, the pages ahead actually help achieve these vitals to ensure a healthy and prosperous living.
Muhammad Abdullah Javed's tag cloud