Mack Peters
Biography
Mack Peters is the pen name of Kenneth Martin. He is a New Age book writer and songwriter from Louisiana whose works reach for the keys to deep individual self-completion. Rose for the Stallions is his first work of fiction. It explores the risque like a Trojan Horse barreling into the subconscious. In October of 2011, he released Great Flaws, Saving Grace: An Ancient Art of Grapes for the New Age, a non-fiction tome probing the historical roots of higher consciousness, peace, and understanding in a troubled world.
Books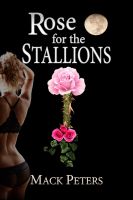 Rose for the Stallions
by

Mack Peters
Mystic Mack Peters made a monstrous mistake—he married a junkie with an overboard sex obsession. He moves in with another woman only to find his wife an attractive mistress. His anger and lust surge to astonishing metamorphoses as a satyr while his heart's truth comes under an extraordinary test. Mack discovers incredible phallic powers and uncovers a labyrinth of fascinating personality secrets.
Mack Peters' tag cloud