Madeleine Torr
Biography
Madeleine Torr is the pen name I use for tales of contemporary romance and romantic suspense. I was born in far north Queensland and spent much of my childhood along the coastal fringe in such places as Bowen, Proserpine and Cairns. The Tasmanian and Melbourne settings for Secondhand Sweetheart are drawn from my memories of the years I spent in Melbourne, earning a Master of Arts in writing and literature, and the time I spent in Tasmania with my immediate family. I now live in Canberra, Australia's beautiful capital, where I continue to write in the genres of romance, science fiction and fantasy.
Where to find Madeleine Torr online
Books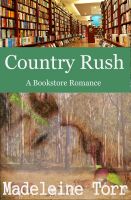 Country Rush
by

Madeleine Torr
When Taylor helps a tall, dark stranger, she embroils herself in the seedier side of city life. With her mother watching over her seriously injured father in hospital, the last thing Taylor needs is a rapid exit from the city and a quick trip to the country, but with a nasty criminal element on their heels, the pair of them leave town to try and work out how to escape their dilemma.
Secondhand Sweetheart
by

Madeleine Torr
When Lisa Montgomery resigns her job to can mend her relationship with her long-time boyfriend, and is then photographed in a compromising situation with one of the airline directors, her future looks bleak. Unwilling to give up, Lisa decides to take control and see what she can do to repair her tarnished reputation. Honorable Mention: Harlequin's 2012 Aviator's Challenge.
Madeleine Torr's tag cloud