Shayne Poole
Biography
welcome and thanks for your support. not much to say about myself realy. I was born in prince georges county maryland the only son. attended high point high school and although didnt graduate a have recieved my g.e.d.I have a beautiful daughter named crystal skye that I love more than life itself. I have always been facinated with the maceabre and paranormal among other things . I am a former member of the golden dawn and the o.t.o and still associated with the a..a and an order of the rc. im an artist mostly tattoos at the moment. most of my poems are from my inner most feelings and a few I seem to have channeled. I have searched for true love for ages and often wonder if its only a wishful dream..I love nature and animals and knowledge. hope this book relates to inspire dreams and hope amongst my readers... and remember when all seems lost ,as long as your still able to smile ,if only a second,,,,,darkness shines....[you may messege me a freind request on facebook at shayne poole...also visit my page at the -magickal realm of frater clavis aurea... There is a typo in Persephone Moon.the word corned is suppose to be adorned.sorry.
Smashwords Interview
Books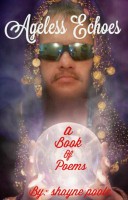 Ageless Echoes (a book of poems)
by

Shayne Poole
welcome to a world of lost love,of vampiric romance,of loneliness and of hope. a world of mans greatest search,the search for love and the tears that accompany it.a world of angels and dark demons manipulating emotions as if in a game. this is the book where darkness shines and worlds dance to the tune of your heartbeat. poems for the soul, of the soul ,from the soul.
Shayne Poole's tag cloud