Bernard Albaugh
Biography
Bernard Albaugh was born in West Virginia. He was raised there and in Pennsylvania until moving to Japan at age 15. He attended high school in both Japan and the Philippines, beginning college in the Philippines before joining the Army. After serving in Hawaii and Panama, Albaugh returned to the U.S. when he was 22 years old. At the University of Oklahoma he received a BA degree in Psychology, a Master's degree in Social Work and another Master's degree in Public Administration. He worked for the Bureau of Indian Affairs as a child therapist in a boarding school and later the Indian Health Service where he worked until retirement in 1991.

During his years working with the American Indian population, Bernard became very involved with the Southern Cheyenne/Arapaho Tribes, taking part in various cultural activities and serving for a time as the Tribal Historical Preservation Officer. Bernard is, as far as he knows, the only non-Indian to become a member of the Cheyenne Kit Fox Clan and to have taken an active part in the Southern Cheyenne sacred rituals..

After retirement from the Indian Health Service he collaborated with the National Institutes of Health and a number of Native American Tribes directing a series of research studies concerning Native American mental health issues until 2004 when he retired again. He was designated a Distinguished Alumni of the University of Oklahoma, College of Arts and Sciences in 2011. He is married and has three children.
Books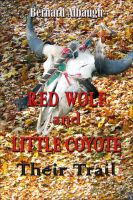 Red Wolf and Little Coyote: VISION QUEST
by

Bernard Albaugh
red wolf and little coyote: their trail is one of the best books available today about early native life. vivid descriptions of their vision quest, survival, death and the horror of captivity in a living mix of spirituality and dynamic culture makes memorable reading. compared, by some, to the rich narrative of native life found in the writing of Scott Momaday and Carlos Castaned
Bernard Albaugh's tag cloud