Bruce Cook
Biography
Graduating from USC in 1974, Bruce W. Cook set out to make it in television. His first real job, following a year of knocking on doors and being turned away, was passing out tickets to "The Mary Tyler Moore Show" for the CBS Television Network. He was paid $180 per week, before taxes, and worked out of a six by eight cement windowless bunker in the basement of Television City, Hollywood. He thought he had landed on the moon.

It was the start of a twenty year career that would lead to writing and producing credits including: "The Redd Foxx Show" on ABC where Cook was the youngest producer on a Network sitcom in the business at the time, "The Dick Van Dyke Show", "The Lola Faiana Show", "The Marie Osmond Show", "The Late Show Starring Joan Rivers", and other sitcoms such as "Too Close For Comfort", "Three's Company", and the new "Lassie". In 1980 he was summoned to Paramount to join a team that would create a ground-breaking concept covering celebrity news. The three minute sound bite interview was born with the launching of "Entertainment Tonight" where Cook served as one of the producers for four years garnering two national Emmy nominations. From there he helped to create the iconic "Lifestyles of The Rich and Famous" and also worked for the studio of the late and legendary Aaron Spelling in a development capacity.

Today Bruce W. Cook pens a bi-weekly column for The Daily Pilot/ Los Angeles Times, and hosts a talk television interview program in San Diego, California for Time Warner TV. He is the author of six books and is presently working on a new novel set on the California Riviera. Married with three adult children and two grandchildren, he resides in Newport Beach, California.
Books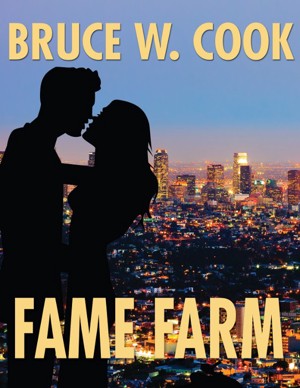 Fame Farm
by

Bruce Cook
In the final days of the golden era of television, before the thirty-something suits with business degrees from Princeton invaded Hollywood and turned television into 382 channels of reality, shopping, talk and dribble, three young men would meet at the University of Southern California film school setting their individual and collective sights on careers in the world of the small screen.
Bruce Cook's tag cloud