Mairead Walpole
Biography
Mairead Walpole is the product of cross-breeding a teacher with a lawyer, which contributed to her love of words and her ability to debate both sides of any issue. She has 21 years of business, technical, and legal writing under her belt in addition to the creative writing that has always been an outlet for her imagination.Mairead has a Masters of Business Administration; a Bachelor of Arts in English with a writing concentration; a Bachelor of Arts in Music History and Performance; an Associates of Applied Sciences in Paralegal Studies; and a Masters's Certificate in Project Management. She has also taken assorted continuing education courses in topics ranging from statistics to intellectual property law.A project manger by day, Mairead writes whenever and where ever she finds a block of uninterrupted time. When she is not working or writing, she is spending time with her family which, with two young sons, generally involves a significant amount of chauffeuring and arbitration.
Where to buy in print
Books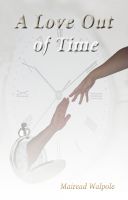 A Love Out of Time
by

Mairead Walpole
Soul mates, twin flames, split-aparts...philosophers, poets, priests have pondered their existence and their nature. Such a love can transcend death, stand the test of time and make all things possible. Some know the truth while others can only hope and dream.
Mairead Walpole's tag cloud