Malacara
Biography
Do you ever wonder why people don't report being haunted by rats, or cockroaches, or flies? I mean, most ghosts are supposedly the traumatized spirits of someone murdered, etc. Hell, I'm guessing every home on this planet has a dead ant, cockroach, or mouse in its history. Why don't we see ant ghosts haunting our kitchens? I, for one, have sprayed death upon many an unsuspecting critter, and I've yet to be awoken at night by their little moaning or chain rattling or whatever pest ghosts do. Just typing out-loud here....
Books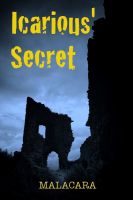 Icarious' Secret
by

Malacara
Icarious was born to fulfill the 'Prophecy'. He never did, though. He simply retired after doing pretty much everything else he could think of. If anyone asked him why he sidestepped that whole destiny thing, he would end their life. "Icarious Secret" is a phantasmagorical account of the life and misdeeds of the world's greatest warrior.
Malacara's tag cloud
Malacara's favorite authors on Smashwords
Smashwords book reviews by Malacara
Short Erotic Tales 1 on Dec. 03, 2011

The author is a good enough writer to suck you in for a bit. His voice is good, so you can't go wrong with a free book. i found the over use of adjectives a little off-putting, and the erotic part was less than erotic. Give it try. I don't know why people gave it 5 stars, maybe they're all his friends, but one star is too mean. I'll straddle the fence.