Malcolm Pithers
Biography
Malcolm T Pithers is a highly respected journalist and acedemic. He was for many years a senior journalist on The Guardian, The Independant and the Yorkshire Post. He was managing editor of the national newspaper of the Bahamas and has worked in many trouble spots, including Northern Ireland. He was one of the first journalists at the Lockerbie air disaster. He has written about numerous other significant events. Born and educated in Yorkshire, he has taught international journalism at Staffordshire University and in Sheffield and advised national organisations of the media. He is the author of two non-fictional books.
Where to buy in print
Books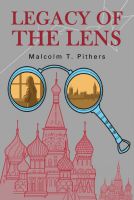 Legacy of The Lens
A 'paparazzi' photographer is shot dead on Royal estate where the British Prime Minister is secretly meeting a Russian oligarch.The radioactive poisoning of Alexandra Litvinenko in London sent relations between Russia and the West plummeting to a deadly low. British security services have a Pandora's box of plots to grapple with to discover who is controlling their operations, from within.
Malcolm Pithers's tag cloud