Uzair Paracha
Biography
Uzair S. Paracha graduated magna cum laude with an MBA from the honors program at the Institute of Business Administration, one of the most respected business universities in Pakistan. He was running a private business in Manhattan, New York when he was arrested in 2003, and later convicted on terrorism-related charges.
He wrote the first draft of the book 'Secular Stagnation' while he was incarcerated at ADX, the underground U.S. federal maximum security prison in Colorado. His research consisted of piecing together bits of information that he gathered mainly from the institutional newspapers that were handed down by other prisoners, as well as the books, internet articles and reports that he was able to request from his family members, given the limited access he had to public information. He is currently serving a thirty-year sentence in the U.S. federal prison system.
Books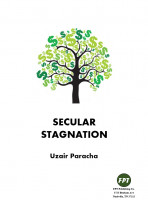 Secular Stagnation
by

Uzair Paracha
Behind the day-to-day statistics, most Americans are suffering from real economic problems with deep causes that eventually lead to economic collapse. This work aims to explain the practical impact of popular government policies at the top on the fate of everyone below.
Uzair Paracha's tag cloud