vitalin nedelchev
Biography
The author was born on February 5th 1958 in a small town located in the folds of Rodope mountains (Balkan peninsula), but this event is off importance. He could be born any other time, at any other place. Early or later he will be forced to quit this world, then his whole live will be represented by a little dash between two simple figures. After some time the headstone will fall and the author will be forgotten for ever, just if he had never been alive. But this event is not essential too. Because his soul will be already saved in the realm of his work.
Books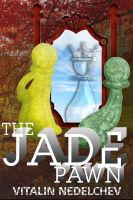 The jade pawn
by

vitalin nedelchev
Price:
$0.99 USD.
Words: 2,040. Language: English. Published: May 9, 2013. Categories:
Essay
»
Literature
A conversation between two pawns about faith, social power and love.
vitalin nedelchev's tag cloud