Mallikarjun B. Mulimani
Biography
Mallikarjun B. Mulimani, born on 17 September 1979, is an Electronics and Communication engineer turned writer. He initially wrote poems; later took up writing short stories, novellas, and novels. So far, he has given birth to fourteen books. 'Abstractions', a book of poems and digital artwork; 'The Holy Plumber and Other Stories', a book of stories with a poem for each story; 'Operation Epiphany – God's Journey on Earth', a novel; and 'Dams Across the Flow', a novella were published by Writers Workshop, Kolkata. His other works include 'Victims Incorporated – Circles of Sub-consciousness', a novel published by Current Publications, Agra, and 'What Happened to my Creativity?', a novella self-published by CreateSpace. Four of his latest novellas, 'Star Ride to Nirvana', 'Bhakti Sans Religion – Dilemmas in the Search of One's True Inner Self', 'Politics – A Love Story', and 'Buddha In A Mercedes', and three of his latest books of poems, 'Poems to Myself', 'Alternative Haikus', 'Poems For Us', and a book containing a long single poem, 'Selene – A Poem' were published by Leadstart Publishing Pvt. Ltd.
The author's style is one in which he feels that brevity is of the essence.
In his work, the author wrestles with the aspects of the social milieu, life, love, sex, death, religion, realisation of self and God and other serious issues.
The author touches upon the metaphysical side of all the above-mentioned issues whenever he deals with them in his work.
He is a serious writer who also has a very subtle sarcastic wit about him.
Many eminent personalities including the late Prof. U. R. Ananthamurthy have appreciated him.
Books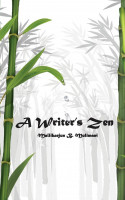 A Writer's Zen
by

Mallikarjun B. Mulimani
Raj is a writer who is like a wildflower. He lives far away from the crowd. A haiku to emphasize: Does a wildflower Expect to be in world's eyes Appreciated? He has extreme empathy for the characters in the story he has begun to write. He also asks too many questions of himself...
Mallikarjun B. Mulimani's tag cloud