Mallory Gerrard
Biography
I was born in London. When my parents moved to Devon, I found myself entranced by its lingering rural beauty but hated the horrible private schools I attended, with their lingering aspirations towards restoring the snobbish values of the imperial past.

After school, I studied medicine at the University of Leeds Medical School and upon graduation specialised in paediatric anaesthesia for which I trained at the Hospital for Sick Children in Toronto, Canada.

When I went back to Devon on a nostalgia trip, I was appalled by the damage developers had done, casting their pox on the lonely coves and beaches I had loved as a child. Probably as a reaction to my sorrow for the ruination of the place that had left such an ache in my heart, I departed England to practice my profession in Hobart, capital of the beautiful Australian island state of Tasmania.

After a severe illness, leaving me intermittently indisposed, I took early retirement. Free, at last from the constraints of fatigue and time, I was able to pursue a lifetime ambition to write fiction. I wrote a few novels and a small collection of stories for children which, I have to confess, were not successful.

I then tried my hand at a story of erotic romance with the theme of submission, freely yielded by a loving but hitherto very much abused young woman, and a man who from his love for her and his fascination by her beauty, is willing to indulge her fantasies of submission. If I have succeeded in drawing a contrast between brutal coercion, on the one hand, and loving servitude, on the other, I will have achieved the goal upon which I embarked in writing Sapphire's Master.

I suppose the mistreatment of the beautiful Sapphire, for the purposes of making money out of her, might be in part allegorical for the rape for profit of the beautiful part of South Devon I had loved so much as a child.

As a postscript, I suppose I should make my apologies to the people of North West Tasmania, for any liberties I have taken with the topography of their unique corner of the world. Perhaps, I should also mention that the township of Bunaburra Creek is fictional and came from my own imagination. The wonderful Ice Age carvings are still there at Mount Cameron West/ Preminghana.
Books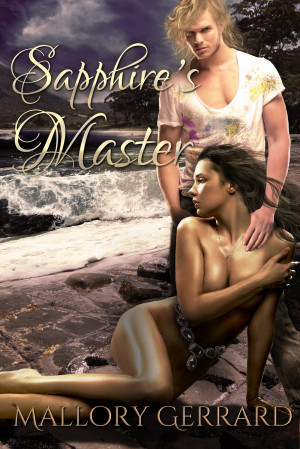 Sapphire's Master
by

Mallory Gerrard
Rehabilitated from drug addiction, undergraduate, Sapphire Innes, escapes from slavery in a Melbourne brothel to fall in love with artist, Sam Hammond, whose model/slave she becomes. Recaptured by the brothel, she is forced back into prostitution. She is rescued by Sam and after further adventures, sexual and otherwise they return home. However, the brothel hasn't willingly surrendered her...
Mallory Gerrard's tag cloud