Mallory Path
Biography
A dedicated daydreamer born in Manhattan, Mallory Path now lives across the bay from San Francisco. Mal used to rage against classification by pronouns, but has come to terms with that failure of language and now answers to "he" or "she"-or, under the right conditions with the right persons-"it." She prefers hope to happiness, which is often reflected in her fiction. When not writing gay love stories, Mal enjoys cuddling her hamsters, napping, and planning fantasy vacations that she will never be able to afford. Visitors to her website, A Lyrical Bent (http://mallorypath.com), are most welcome.
Where to find Mallory Path online
Books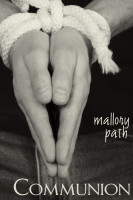 Communion
by

Mallory Path
Vincent, Patrick and Colin have been playing with Tig ever since Tig confessed his desire for D/s intimacy. Now that the time has come for Tig to make the same confession to Justin, along with a confession of love, they're sure they know what lies ahead—but after tonight, nothing will ever be the same between these five friends.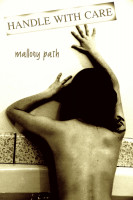 Handle With Care
by

Mallory Path
Pretty-boy Lucas has caught everyone's eye at local hangout The Station, including that of rough-and-tumble grad student Mick. When it's finally Mick's turn to take Lucas home, he teaches Lucas that you can't judge a book by its cover (or a body by its tattoos)-and that there's much more to erotic intimacy than sex.
Mallory Path's tag cloud