Manuel Martinez and Erika Perret-Martinez
Biography
MANUEL MARTINEZ was born in Mexico City, Mexico. His family moved to the US when he was 8 yrs old. He graduated from CAL Polytechnic University in Pomona, CA. with a BA in Business Management. His wife, ERIKA PERRET-MARTINEZ was also born in Mexico and immigrated to the United States with her family as a child. Erika attended California State University Fullerton and graduated with a Bachelor of Arts in Sociology and Gerontology. Growing up, Erika and Manuel's lives were greatly influenced by the presence of many extended family members in the home. They wrote Matteo And His Abuelito to pay homage to the invaluable role that grandparents play in nourishing the lives of their grandchildren. Erika and Manuel currently live in Los Angeles, CA with their three children: Giselle, Matteo and Miranda. This is their first children's book. Manuel has been an employee of Infinity Insurance for twelve years.
Books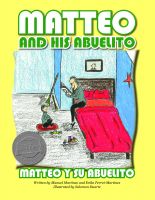 Matteo and His Abuelito / Matteo Y Su Abuelito
by

Manuel Martinez and Erika Perret-Martinez
Bi-lingual English/Spanish. Is Matteo's Abuelito too old to be his best friend? Abuelito can no longer ride a bike or play hopscotch, so what is it that makes Matteo love to play with his Abuelito?
Manuel Martinez and Erika Perret-Martinez's tag cloud