Marco Peluso
Biography
Marco Peluso, autore napoletano di trentaquattro anni, esordisce nel gennaio 2014 con la Damster edizioni con cui ha pubblicato diverse opere. A oggi sono circa 60 i suoi racconti presenti sul sito www.eroxe.it. I racconti e i romanzi di Marco rispecchiano il suo stesso vivere. Una vita solitaria, fatta di eccessi, di alcool, e di lavori odiati fatti solo per tirare avanti. La vita di un uomo come tanti, che non si definisce né un artista né uno scrittore, ma solo uno che non riesce a dormire prima delle cinque del mattino ormai da anni, e impiega le sue notti ubriacandosi e scrivendo le sue storie, forse per deridere una realtà che gli sta stretta. Umiliandola. Sbranandola. Dissacrandola. Questo è Marco Peluso, né più né meno.
Where to find Marco Peluso online
Where to buy in print
Books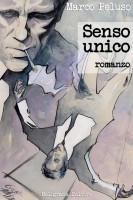 Senso unico
by

Marco Peluso
Questa è la storia di un'ossessione, di una vendetta in un gioco a due, vendetta che si consumerà in un incontro inaspettato e sorprendente. È la storia di un rancore costante, di un tormento persistente, è la storia di un coraggio disperato, il coraggio di chi non ha più nulla da perdere. Ed è la storia di una presa di coscienza, di un insegnamento feroce, non desiderato ma imposto.