Marcus D. Wiley
Biography
Marcus D. Wiley is a premiere entertainer whose class of comedy surpasses the status quo. Deeply rooted in old-time religion he offers a contemporary flair on Christian living. Wiley is best known for addressing the elephant in the room with respect, compassion, and perspective. This co-host of the syndicated Yolanda Adams Morning Show and Texas Southern University professor proves life is a journey best spent with a smile, and he is sure to bring many along the way.
Where to find Marcus D. Wiley online
Videos
Interview with MD Wiley
An interview with Marcus Wiley.
Disciple 13
Marcus D. Wiley Presents: D13 The 13th Live DVD Recording!
If The Church Shoe Fits
If the "Church Shoe" fits, wear it - and if it doesn't, try another style! In this soul stirring scenario, Dr. Wiley diagnoses the Church's unspoken ills - compromising our spiritual health by courting with catastrophe! Wiley's perfect prescription charges us not only to embrace honesty with God, but truthfulness with one another - whether sinner or saint. In doing so, Wiley shows how to really put our best foot forward!
Take The Shades Off
Just when you thought he couldn't get any hotter, Marcus D. Wiley turns up the heat in "Take the Shades Off." in this perfect combination of love and laughter, Wiley entices audiences to stop hiding behind the shades that so often deceive others - and ourselves.
How to Live Holy When You're Horny
From star-studded style to high profiles, Marcus D. Wiley talks temptation -- and how to resist it when you're horny. Not that kind of horny! Expanding the definition, he hones in on desires that can cause Christians to cross the line (without the Cross)! How to Live Holy When You're Horny DVDs are available at www.marcusdwiley.com.
Books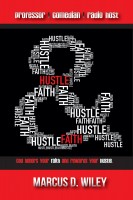 Hustle & Faith — God honors your faith and rewards your hustle!
by

Marcus D. Wiley
I am not a theologian! I did not study hermeneutics and homiletics in seminary school. I can't exegete or eisegete text, but I can read! The bible tells me that faith without work is dead! What I've learned is, it will never be your season if you have not plowed. You cannot reap what you have not sown. My experience proves that God will honor your faith by rewarding your hustle.
Marcus D. Wiley's tag cloud