Margaret Robinson
Biography
I'm a southern girl raised on homegrown food, fresh out of the garden. My parents were sharecroppers who raised chickens and hogs. We had pecan orchards, peaches and strawberry patches. My dad had what the world calls a green thumb. I call it a gift from God. I call it prosperity; he touched it and it prospered. He also bred dogs and made moonshine in the woods until all hours of the night. He sipped it to perfection, all the while hoping he was not discovered; by the time he made it home it was usually daybreak.
One more thing about me - when I was in the world, I was IN!! Understand me, but when God called me out of darkness into His marvelous light I became a peculiar person, I Peter 2:9. Sit back, relax and enjoy.
Books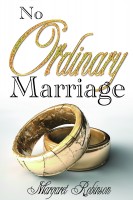 No Ordinary Marriage
by

Margaret Robinson
No Ordinary Marriage is the story of how one woman entered a marriage that she thought was God-ordained; but by not waiting on God's timing, a dream turned into a nightmare.
Margaret Robinson's tag cloud