Marjorie Dodge
Biography
Marjorie Dodge is a former English major who refers to herself as a "sixties dropout". She was an English major who never intended to teach, and who dropped out mid-junior year. She earned her living as a secretary for the railroad for 27 years, specializing in editing any written material that passed across her desk. She started writing poetry in the sixth grade and has developed a visual/verbal style that utilizes both rhyme and meter, in addition to form and shape. Her work blends the line between art and poetry. She is currently retired and shares her home with a shetland sheepdog who is the real boss of the household. She thinks that the greatest invention of our day is the personal computer!
Books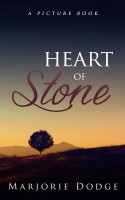 Heart of Stone: A Picture Book
by

Marjorie Dodge
(4.00 from 1 review)
Heart of Stone: A Picture Book is composed of poems that are visual as well as verbal. They are poems that speak the universal heart, mind and soul. The poems are introduced in metaphor by the title poem, "Heart of Stone", as individual prisms carved by living rivers of intuition, and hidden within the heart of an impassive granite mountain (the poet).
Marjorie Dodge's tag cloud