Marinda Dunbar
Biography
I love people and get along with both young and old. My husband get ticked off when we visit family and friends - I can't stop talking.

Routine is something I need in my life, and hate being disorganized (I get upset and moody).

Watching movies or music DVDs fills my week-ends, or when I have time for myself. Movies based on true life stories are my favorite. Reading biographies is also something I enjoy, especially stories of overcoming difficulties in life.

I'm really good at setting and reaching goals I set for myself, especially when it has to do with my health and well being. For example, finding a cure for my psoriasis. And I also set a goal to lose weight - lost 24 kg (and it's been off for over a year).

My biggest love in life is music - I cannot imagine life without music! Not a specific genre, but all styles of music.

I wrote my ebook, "How I Cured My Psoriasis" in the hope of helping someone else with psoriasis. I thought my ebook might be of value in some way or another, or give someone encouragement to show that a person doesn't have to believe everything your doctor says. I really hope my ebook will motivate anyone who is suffering with this skin disorder.
Books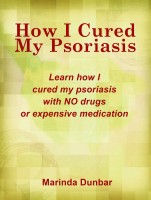 How I Cured My Psoriasis
by

Marinda Dunbar
How I Cured My Psoriasis is the real life story of how a woman completely cured her psoriasis, without ANY drugs or medication.
Marinda Dunbar's tag cloud