Mark Byron
Biography
Mark Byron is a successful startup entrepreneur and investment director in the complicated world of finance who has mastered a unique ability to leverage current market trends and meld them into emerging markets. As Co-Founder of Barton-Heyman, Ltd. A company with business partnership in the U.K. and Sub-Sahara Africa of London and Lagos, Nigeria, Mark heads a group of experienced professionals who have come together to form a financial vanguard in African markets. For that reason he has developed a unique strategy and laid it all out in his groundbreaking book, AFRICA ARRIVES/ A Savvy Entrepreneur's Guide to the World's Hottest Market as an exceptional guide for both experienced entrepreneurs and savvy investors looking for leverage in new markets. In it, you'll learn how to navigate the intricate currents of the 54 nations in what every financial expert has predicted will be the world's hottest market for the next 50 years. If you are looking to Africa to invest, start up a new business, co-venture or make connections. Africa Arrives is a great place to start.
Where to buy in print
Books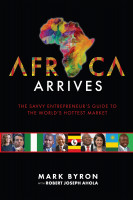 Africa Arrives! - The Savvy Entrepreneur's Guide to The World's Hottest Market
by

Mark Byron
Finally, there's a book that shows Africa for what it really is—Your Best Bet Gold-Mine Global Market For The Next 50 Years!
Mark Byron's tag cloud