M F Cain
Biography
Mark F Cain is a man obsessed with horror and fantasy TV and movies and is often tinkering with some new technology, is married with 3 children and a large paint and brush collection, and is quite unbearably happy with most things, with the exception of whoever came up with the 24 hour clock - it doesn't provide enough hours in a day.

He spends his free time writing, painting miniatures, watching movies and TV shows, podcasting about movies and TV shows, and reading with his ears whilst driving.
Books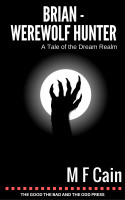 Brian Werewolf Hunter
by

M F Cain
Brian is a boy who loves horror movies, books and TV. During sleep, he goes to a place called The Realms, to play with friends who live in a woodland village. But one day the children of the village disappear, and strange half-man half-wolf tracks are found, and it's up to Brian to use his knowledge of werewolves and their ways to help a warrior hunt down the werewolf and find the lost children...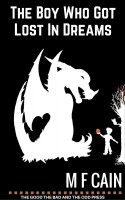 The Boy Who Got Lost In Dreams
by

M F Cain
Tom Apple falls into a Dream Machine and appears in The Realm, a place where dreams become real. He encounters monsters, a dragon, a golem, and a band of warriors, as he is pursued by a powerful enemy, The Dark Lord. He finds himself in a mighty battle as the Dark Lord seeks a map Tom holds that will allow the Dark Lord to recreate the Realm in his own image… Can Tom stop and his friends stop him?
M F Cain's tag cloud