Khushal Habibi
Biography
Khushal Habibi was born in Afghanistan where his education led to a biology degree from Kabul University. He joined the National Parks Directorate in 1975 and assisted in the establishment of a number of protected areas aimed at conserving biodiversity and threatened species including the Marco Polo sheep, markhor, snow leopard and the Siberian crane.

In 1977 he joined Michigan State University gaining a PhD degree in 1983 in wildlife biology and management. He has worked as a consultant for international agencies and participated in reconnaissance surveys and research on wildlife in Afghanistan, Saudi Arabia, Sudan, Pakistan and the United States of America. He is the author of Arabian Gazelles, The Desert Ibex, The Mammals of Afghanistan and is the editor of the Gazelles of Arabia. He is currently working on a compilation of the Birds of Afghanistan.

Dr. Habibi's abiding interests are in nature conservation, wildlife photography, and environmental education.
Books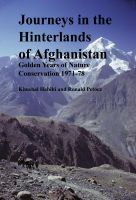 Journeys in the Hinterlands of Afghanistan
by

Khushal Habibi
Journeys in the Hinterlands of Afghanistan is a narrative of our trips into the mountains and plains of the country in search of its elusive wildlife. It is a testament of our encounters with the people of the land, their culture, folklore and how they cope with the rigors of life. It is an account of a time of peace and tranquility describing the beauty of its natural wonders.
Khushal Habibi's tag cloud