Mark Handwerker
Biography
Mark J. Handwerker was born in Brooklyn, New York, and raised in three of the five boroughs of the Big Apple. He is a teacher and writer with more than a dozen publications, including books and articles in a number of scientific fields. He graduated with a BS from CCNY in Psychology/Biology and moved to California in 1972 were he attended UCI, graduating with a PhD in Biology in 1976. He began teaching for the Los Angeles Unified School District in 1982 until accepting a position with the Temecula Valley Unified School District in 1988, where he continues to teach young people the basic methodology and principles of science once esteemed and put into practice by the courageous Founders of this Nation. Dr. Handwerker lives with his wife, Judith, in Riverside, California.

Dr. Handwerker coauthored "InSearch of Hippocrates" with Martin J. Collen. Dr. Collen was born in Oakland, California, and raised in Los Angeles. He is an internationally recognized physician who, for more than 30 years, has practiced "the art and science of medicine" according to the tenets of the Hippocratic Oath. He is the author of more than 250 original research and review publications, including books, articles, and abstracts. He graduated with a BA in Mathematics from UCLA in 1966, and attended Chicago Medical School at Rosalind Franklin University of Medicine and Science, Chicago, Illinois, graduating with an MD degree in 1970. He completed a year of internship in medicine and a year of residency in General Surgery at UCI, and went on to complete an additional two years of residency in Internal Medicine and a two year Fellowship in Gastroenterology at UCLA until 1977. He was an Assistant Professor of Medicine at UCI, from 1977 to 1980, and Instructor of the Year for two successive years. He completed a research Fellowship in Gastroenterology from 1980 to 1985 at the National Institute of Health in Bethesda, Maryland, and was Associate Professor of Medicine and Director of Gastrointestinal Research at Georgetown University Medical Center in Washington, D.C., from 1985 to 1990. He moved back to California in 1990, where he was Professor of Medicine at Loma Linda University from 1990 to 1995 and Clinical Professor of Medicine from 1995 to 2005. He earned an Executive MBA in Health Care from UCI in 1999. Since 1995, he has been in private practice as a gastroenterologist in the Inland Empire. Dr. Collen lives with his wife, Roberta, and their youngest of four children in Riverside, California.
Books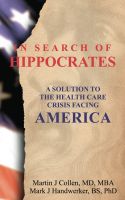 In Search of Hippocrates: A Solution to the Health Care Crisis Facing America
by

Mark Handwerker
The authors of "In Search of Hippocrates" take a cold hard look at the primary causes of rising medical costs and present a simple, fair, and equitable solution to the problem: a common sense solution that will allow every American citizen to decide who treats them and how their medical care dollars are spent without interference from government administrators or health insurance companies.
Mark Handwerker's tag cloud