Mark Lesney
Biography
I am a single gay man of a certain age, living with the obligatory cat. My only fiction credential before "Interview with the Kevin" is a semi-comic steampunk M/M romance novelette, "The Golden Goose," published in the "Steamed Up" anthology, sadly now out of print. My non-fiction writing credits, however, are extensive. Currently, I am the managing editor of two medical newspapers, for which I also write routinely. For over 6 years my science and history articles appeared monthly in two newsmagazines, for which I was a writer/editor at the American Chemical Society. My credits also include science articles published in Analog Science Fiction/Science Fact. I have a PhD in plant pathology and a second PhD in the history of science. I have worked as a research scientist and university professor. But my love has always been reading and writing fiction—with science fiction/fantasy, mystery, paranormal romance, and historicals all grappling for my affections. I am now determined to pursue that dream intensely.
Where to find Mark Lesney online
Books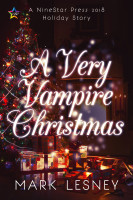 A Very Vampire Christmas
by

Mark Lesney
Stuck for ideas on what to get his wealthy, blind, vampire lover for Christmas, Kevin comes up with the idea of recovering Danton's long-lost but much-favored glass eyes from their home in a Wild West museum. But one touch of the eyes and Kevin is swept by his developing clairvoyant powers into a psychic nightmare of the old Wild West the eyes 'witnessed' while still in Danton's head.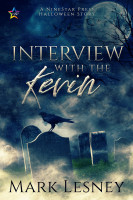 Interview with the Kevin
by

Mark Lesney
Danton is a 1200-year old vampire, blinded by the Medieval Church, who makes his life as a paranormal romance novelist. He writes about a vampire detective and "pretends" to his fans to be a vampire himself. But book sales are down because he has been without love for over 30 years and just doesn't have that spark of romance left in him. Until he meets Kevin.
Mark Lesney's tag cloud