Markospokus
Biography
Markospokus is a guy, who likes to share his knowledge with others - he just can't help doing so. Although he studied and completed course in computer science (M.Sc.), does speak ordinary human language. Currently his focus is on human relations, electronic music, live performances and using computer for artistic purposes.
Books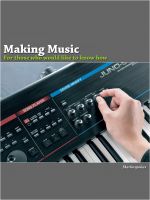 Making Music For Those Who Would Like To Know How
by

Markospokus
This book is dedicated to all those who would like to start making electronic music, but don't exactly know where or how to begin. It is a quick start into making this type of music. Intention here's to describe the processes involved, give prime advice, and inspire, while speaking in a simple and relatively jargon free language. After reading this book you will know where to make your next steps.
Markospokus' tag cloud