Mark Pegram
Biography
I was raised on a farm in Piedmont, NC where we raised cattle and, yes, tobacco. I used to give my father a really hard time about all the people we were killing. How was I to know that my parents keeping me out of the sun, because of heat stroke, would later cause me much severe pain. I have two daughters (three grandchildren) and a lovely wife that are all employed in the medical profession, except for the grandchildren. I have a master degree in engineering where I studied fluid flow and heat transfer. Some would call that rocket science, just kidding. I was employed in 'big industry' for eighteen years and sales to big industry for another twenty years and engineering inspections. I have recovered from severe back pain after two failed surgeries and recovered from severe sleep apnea and high blood pressure. It was through an unusual route that I discovered the nutrition needed to grow cartilage. I have nine medical professionals in my immediate family; family reunions are exquisitely interesting. I don't blame them; how were they to know I would grow three inches taller in one year as my cartilage healed. It was through their disbelief as I started on my path to healing that motivated me to continue my research. Healed from Chronic Pain is the first book that I plan to write. The second will be a 'how to book' for back pain with the help of two medical professionals. This should be available in a few months as it is about fifty percent complete. There will be others for each disorder from which I recovered. If you have chronic disease or want to be healthy and just feel good, then I suggest you will want to read my work. Thank You!
Where to find Mark Pegram online
Books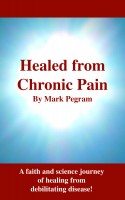 Healed from Chronic Pain
by

Mark Pegram
A new approach to healing, the combining of faith and science, lead this non-medical person to discover that nutrition would heal most disorders. A correlation between central air conditioning and obesity lead him to the understanding that we do not consume enough nutrients in our regular diets for health. You will also discover our relationship with the sun has changed forever and why.
Mark Pegram's tag cloud