Mark Trexler
Biography
Dr. Mark C. Trexler has more than 30 years of regulatory and energy policy experience and has advised clients around the world on climate change risk and risk management. Mark joined the World Resources Institute in Washington, DC, in 1988, where he worked on the first carbon offset project, the CARE Agroforestry Project in Guatemala. He founded Trexler Climate + Energy Services in 1991. At TC+ES he worked extensively with electric sector and other energy clients, government agencies, and NGO clients on risk mitigation and adaptation strategies, including development of climate change decision-support tools such as carbon market models and carbon offset quality scoring systems. Mark directed EcoSecurities' Global Consulting Services Group from 2007-2009 and was Director of Climate Risk for the global risk management firm of Det Norske Veritas from 2009-2012. He is widely published on business risk management topics surrounding climate change, including in the design and deployment of carbon markets. Mark has served as a lead author for the Intergovernmental Panel on Climate Change, and holds graduate degrees from the University of California at Berkeley.
Where to find Mark Trexler online
Books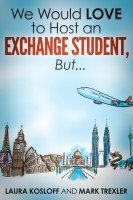 We Would Love to Host an Exchange Student, But …
by

Laura Kosloff

&

Mark Trexler
Host parents, parents back home, and students themselves are making a big investment when it comes to any of the high school study abroad options. Too often that investment doesn't fully pay off, usually for predictable and avoidable reasons. This book can change that.
Mark Trexler's tag cloud