Adrienne Martini
Biography
Mostly I write non-fiction, including a memoir about knitting a complicated sweater called Sweater Quest: My Year of Knitting Dangerously and a book about Appalachia, insanity and families (but funny) called Hillbilly Gothic: A Memoir of Madness and Motherhood, both published by The Free Press. Other works include two kids and a passel of non-fiction pieces on everything from Tofurkey to poop. I also teach communications and theater at SUNY-Oneonta, because undergrads help keep you young and moderately irritated. Currently, I am trying to sell a third book and writing monthly column about parenting for my local newspaper, The Daily Star. I've lived all over the Eastern half of the country, from Pittsburgh to Austin to Knoxville, Tennessee, before landing in the middle of New York state.
Where to find Adrienne Martini online
Books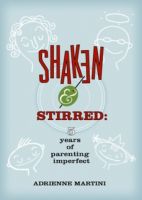 Shaken and Stirred: Five Years of Parenting Imperfect
by

Adrienne Martini
I do not consider myself a parenting expert, nor do I play one on TV. Frankly, I'm okay with that. At at 2 a.m, when your kid is barking like a baby seal and you're debating a run to the ER. Experts have their place, certainly, but their advice is frequently more theoretical than real-world based. These are true tales from the trenches.
Adrienne Martini's tag cloud