Martin Rickerd
Biography
At some stage in my diplomatic career, my late father gave me a paperweight bearing the motto "Diplomacy – the art of letting someone have it your way".

This brilliantly and succinctly encompasses centuries of relationships between nations and the work of countless men and women employed to advance their countries' interests. In my 37 years, 6 months in Her Majesty's Diplomatic
Service, I came across few better definitions.

I joined the Foreign and Commonwealth Office in September 1972, a month after my eighteenth birthday and straight from school – this was still a time when only the very clever or very well-connected went to university, although it was still free. My two A-levels (English and, appropriately for a would-be diplomat, French)
were enough for me to set out on a peripatetic career different in every conceivable way from the life of my father, a professional man who was born, worked and died in one town.

I started out with low, if any, expectations of actually becoming a "diplomat". I had applied to join the Diplomatic Service before sitting my A levels, having already rejected the idea of working as a journalist (though the love of the written word has never left me); an accountant (I got as far as having an interview for that); a merchant sailor (partial colour-blindness meant that I could not tell a starboard light from port); and a technical draughtsman (my simplistic designs for a "new generation" of heavy goods vehicles having been politely returned by a major truck manufacturer). On 11 September 1972 I joined the Foreign Office at the bottom, as a registry file clerk, having passed an interview following my application in response to an advert in a national paper seeking "Travel-minded teenagers".
Books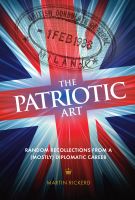 The Patriotic Art
by

Martin Rickerd
(4.00 from 1 review)
The FCO gave Martin Rickerd a fascinating career, which took him to some wonderful parts of the world – and some less wonderful, but they too were immensely interesting and memorable. No retired member of the Diplomatic Service can claim to have been entirely happy about everything throughout their career. But neither can they say they did not enjoy some marvellous benefits in terms of experience.
Martin Rickerd's tag cloud