Steve Martinot
Biography
Steve Martinot has been a human rights activist most of his life. He worked as a machinist for ten years, drove a truck for 4, and has taught writing and literature. He has organized labor unions in New York and Akron, and helped build community associations in Akron. He ws a political prisoner in New York State. The charge was contempt of grand jury. He now lives in Berkeley, and has published 7 books on philosophy, history, and the structures of racialization in the US.
Where to find Steve Martinot online
Books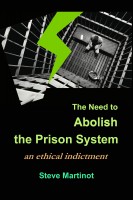 The Need to Abolish the Prison System: An Ethical Indictment
by

Steve Martinot
Imprisonment is an act of criminal violence, committed in pursuit of a revenge ethic. In responding to wrongdoing with violence, it doubles violence and criminality, rendering justice impossible. Instead, it valorizes violence as a role model (along with others). The book outlines the cultural transformation necessary to think of restorative justice, and get past the travesty of imprisonment.
Steve Martinot's tag cloud