Marva Dew
Biography
Marva Dew is the proud and loving wife and covenant partner of the dynamic Reverend Dr. Gerald M. Dew. She is the gracious First Lady of the Antioch Missionary Baptist Church of Chicago, IL. Committed to meeting the needs of women throughout her church, community, state, and nation, she is passionate about the bond, strength, and power of united Christian sisterhood. She vehemently believes that strengthening the women of God and the bonds of sisterhood will fortify the family, the community, the world, and the church. To that end, her mission in life is to stand firm on the Word of God and encourage, enrich, and enlighten women so that they, in return, might do so for others. Iron Sharpening Iron!
Where to buy in print
Books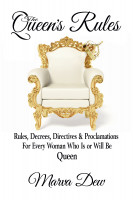 The Queen's Rules — Rules, Decrees, Directives & Proclamations For Every Woman Who Is or Will Be Queen
by

Marva Dew
I Am A Queen! Not simply because I say so, but because of my relationship with the King—God Himself. You may not see my crown, but trust me—it's there—sparkling, shining, illuminating light, holding me responsible for the life I now live, and reminding me at all times that I must work the works of Him who sent me while it is day for when the night comes the workday will be over.
Marva Dew's tag cloud