Mary Powell
Biography
I am 36 years old and have a 3 year old son. My husband and I have been married almost 7 years. We live in Central Wisconsin. I work full time and wanted to try writing a book. I love reading and prior to my son, I read all the time. I still sneak time in to read when he is sleeping. I have another book that I have been working on for a couple of years but I cannot get the storyline the way I want it. Maybe some day soon I will have that one ready and publish that as well.
Books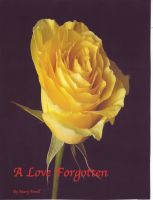 A Love Forgotten
by

Mary Powell
Price:
$0.99 USD.
Words: 64,350. Language: English. Published: June 14, 2012. Categories:
Fiction
»
Romance
»
Suspense
(3.00)
She lived in a quiet town where nothing ever happened. Until he showed up. Alex Stone had the whole package. One she tried hard to keep her hands off of. One mishap after another endangered her life and the life of her best friend. When Alex and his friends came to her rescue he found out just how in depth her past goes. Could she overcome her past to keep the man of her dreams?
Mary Powell's tag cloud
Smashwords book reviews by Mary Powell