Mary Quinn
Biography
At the time of Thorn In My Side's publishing, Mary Quinn is finishing her senior year of high school in Fairfield, Connecticut, (where she grew up). When not writing at 2 a.m. or reading a book, (which is most of the time), Mary can be found dyeing her hair a creative color, hanging out with friends, or helping out anyone needing a hand. She also loves playing the flute in her school band and being outside, and really wants a dog so if you're reading this mom please get me a corgi. She sends thanks to her family and friends for all the support, and hopes you enjoy the book.
Where to buy in print
Books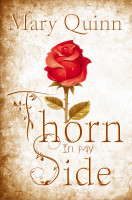 Thorn in my Side
by

Mary Quinn
This time around, Sleeping Beauty is ready to save herself. Senior year is hard enough. Add in demons, a sleeping curse, and an unwanted prince completely determined to marry you and what do you get? Chaos.
Mary Quinn's tag cloud